Happy holidays! We are sharing 3 holiday cocktail drinks for you and your friends to enjoy.
Sparkling Pomegranate Cocktail
Ingredients:
1 1/4 to 1 1/2 cups pomegranate juice
Pomegranate arils (seeds)
1 750 ml bottle sparkling wine
Fresh rosemary sprigs, for garnish
Directions:
Fill an ice cube tray with pomegranate juice leaving about 1/8 inch at the top. Freeze until solid.
For each serving, fill a highball glass with a few pomegranate ice cubes and pomegranate arils.
Optional: Top with sparkling wine, orange, cherry and a fresh rosemary sprig.
2. Santa's Sleigh Cocktail
Ingredients
White sugar crystals, preferably coarse
2 cups store-bought eggnog, chilled
1/2 cup brandy
1/2 cup amaretto liqueur
1 teaspoon ground nutmeg
2 scoops vanilla ice cream
4 cinnamon sticks
Directions:
Dampen the rims of 4 martini glasses and then line the rims with sugar crystals.
Combine eggnog, brandy, amaretto, nutmeg, and ice cream in a blender; process until smooth. Pour mixture into martini glasses and garnish each glass with a whole cinnamon stick.
3. Champagne Bourbon Cocktail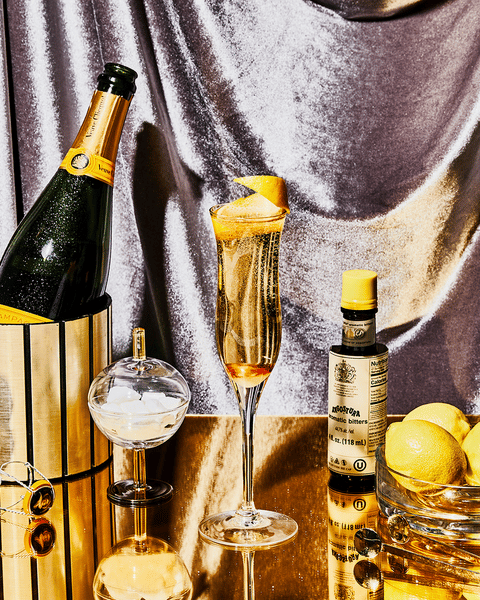 Ingredients:
1/2 cup sugar
1/2 cup water
1/2 vanilla bean, split and seeds scraped
Bourbon (recommended: Woodford Reserve)
Prosecco or sparkling wine, chilled
Directions:
Combine the sugar, water, beans and seeds in a small pot. Bring to a boil over medium heat and cook until the sugar is dissolved. Let cool to room temperature, then discard the vanilla bean.
Add 1 shot of bourbon and 2 tablespoons vanilla bean syrup to a chilled champagne flute. Fill to the top with sparkling wine, and serve.